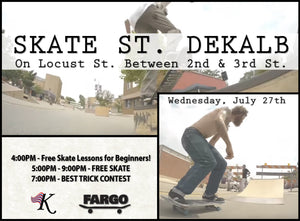 Skate Street DeKalb! Wednesday, July 27th
Kishwaukee Fest
Presents:
SKATE STREET DEKALB:
DeKalb, IL-06/24/16: Kishwaukee Fest of DeKalb County is excited to have 'Skate Street' return as the featured

Wednesday

attraction. Skate Street will include skateboard demonstrations and some competition challenges. This event will be held on Locust Street
between  2nd street and 3rd street in downtown DeKalb (IL) where skateboarders are invited to come skate the street and showcase talent levels from novice to advance..


Kishwaukee Fest
and Fargo Skateboarding (formerly SmallTown Skate) have partnered to show both young and old the world of skateboarding as both a competitive
sporting event as well a healthy form of exercising and FUN.  Fargo Skateboarding will provide ramps, rails, and skate obstacles to the downtown site to promote skateboarding as a fun, healthy activity for kids of all ages.
Skate Street will be sponsoring three events starting at

4:00 pm

on

Wednesday July 27, 2016

.  It's fun for both skaters and spectators alike.
From

4:00pm to 5:00pm

we'll have FREE LESSONS for beginners and novices. Anyone is welcome to come for some free pointers from the staff at Fargo Skateboarding.  For those that do not have your own equipment, some will be provided.
KIshwaukee Fest is opening Locust Street for skateboarding from

5:00-7:00 pm

for FREE SKATING for everyone! All skaters of all skill level are invited out to come skateboard! Spectators are encouraged to come check it out and cheer on the skaters! Some of the Skate Team ill provide basic lessons for those new to the sport.
Then at

8:00 pm

we'll have the BEST TRICK CONTEST.  For the serious skaters,
Fargo Skateboarding

will be offering a best trick contest, which is really exciting for anyone to experience.  Whether you're skating or watching, it will be a great time and a healthy alternative to watching TV re-runs.!  A panel of
professional

judges will be there to adjudicate the best trick contest and the winner will receive a month worth of free skating at Fargo Skateboarding's new indoor skatepark, located at 629 E. Lincoln Hwy. in downtown DeKalb.

In addition to the Skateboarding there will be other healthy forms of information from local stores and health organizations. There will also be bike exhibits and demonstrations in Van Buer Plaza.

This is a rain or shine event, if it is inclement weather, the event will be relocated to Fargo Skateboarding's new location, 629 E. Lincoln Hwy., DeKalb. For more information about Kishwaukee Fest please contact Michael Embrey (815-756-1263) and for more information about the Skateboarding event please contact
Ariel Ries (815-756-5555). For a complete list of events please check the web site: www.KishwaukeeFest.com.
---