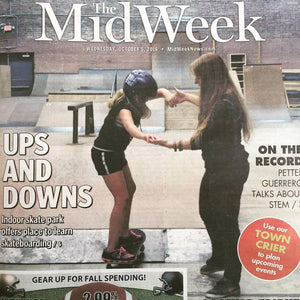 Fargo On The Midweek Front Page!
DeKALB – Ariel Ries is breaking down gender boundaries and stereotypes by encouraging females of all ages to learn how to skateboard.
Ries first started skateboarding with her best friend when she was in eighth grade. Now 32, she skates every day and continues to learn new tricks.
Ries is the owner of Fargo Skateboarding, 629 E. Lincoln Highway in DeKalb.
The business offered the first of three free beginner skateboarding classes last weekend. Two additional classes will be held from 10 to 11 a.m. Saturdays, Oct. 8 and 15.
The indoor, heated skate park is a training facility with a half-pipe, quarter-pipes, rails, banks, steps and training ramps. The 10,000-square-foot skate park was completed in August. The ramps, which were built by hand, took three years to build. Ries said the park's design was based on learning, teaching and education.
"I want to teach people how to skate, to reach a younger audience," Ries said. "I want to spread skateboarding awareness and to inspire kids to have fun in a physical way, not glued to a screen. … I especially want to show girls that they can skateboard. I want to encourage girls and women to try skateboarding, to challenge themselves and break boundaries."
Twelve-year-old Trista Fioretto of Cortland has been taking lessons at Fargo Skateboarding for two months and says she loves the sense of freedom she has when she skates.
"Learning how to skateboard has really built up my courage," Fioretto said. "I think that more girls should try skateboarding. It teaches you that if you fall down, you get back up and try again. It's fun, and it pushes me to try and learn new things."
Skateboarding, longboarding and some roller skating and roller blading are allowed in the skate park, but scooters and bicycles are not.
Fargo Skateboarding also has a full-service skate shop that sells skateboards, safety gear, skateboarding shoes, hats, socks and skateboard parts and pieces: decks, wheels, trucks and bearings.
Fargo Skateboarding gets its name from its location, the Fargo Theatre, which was built in 1929. Joel Aspinwall of DeKalb was the skate park's contractor and renovator. His 9-year-old daughter Aja participated in the first beginner skateboarding class.
"It's a joy to see [Aja] interested in skateboarding," Aspinwall said. "I used to skate when I was younger, and I still skate. I'm happy to be a part of the skate park because the ambiance, the people are great. It's an endless source of fun."
---